you can order this CD at Satnam Versand or download at Mantradownload.com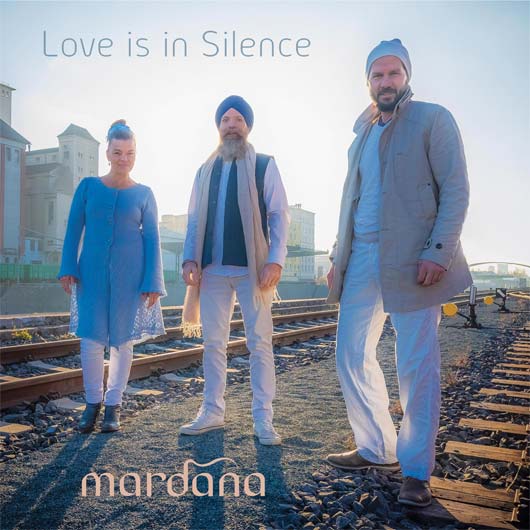 Re Man Trance (14:43)
Hari Naam Alignment (11:56)
Universal Panch Parvan (13:02)
Re Man 10.000 Japas (23:12)
Healing Ra Ma Da Sa (12:02)
Longtime Sunshine Bliss (04:46)
Love is in Silence is calm and steady, deeply meditative, focusing inwardly.
From the very beginning, we designed Love is in Silence as a musical tool for meditation, yoga practice and yoga classes: straightforward, meditative and multi-layered, catchy and reduced.

It would not be a Mardana album, however, if there weren't the beautiful melodies, the gentle and sometimes invigorating rhythms and the heart-warming vocals, which we simply love so much!
Without long intros and outros, without solos or many extras, Love is in Silence reveals the soft tones "between the notes", the subtle arrangements, and the sensitively layed-out instrumentation.

Above all floats the polyphonic singing, retaining an important leading energy and inner calmness for meditation throughout, unobtrusively inspiring the depths of the soul. And if you listen carefully, you will discover fine and playful embroideries in this softly flowing robe, which, however, always blend in discreetly in the background.

The starting point for the development and "core" of this album is the track Re Man 11.000 Japas: a fast version of the Re Man Shabad, which is particularly well suited to repeat this mantra for a "Golden Aura" in a total of 11,000 times! In the download area, there is an extra version of this track without the short intro and outro, which you can play looping again and again, so that there is no break.

The first track on the album, Re Man Trance, is the necessary counterpart to the fast version: calm, fluent, meditative, catchy and trance-like, so you can deeply internalize this special mantra.

The mantra Hari Naam Sat Naam as well as the Pauri from JapJi Sahib, Panch Parvan…, are decorated with new musical colors and instruments that were rarely heard before from Mardana – a real treat for your ears and soul!

With the new version of the healing mantra Ra Ma Da Sa… the three musicians spent a long time wondering if there really needed to be another version of this popular mantra – and the answer was "yes". And that's a good decision, because the beautiful melody is easy to sing along and you immediately come into that healing flow that carries you, protects and bestows light upon you.

With the last piece, Longtime Sunshine Bliss, the album finds a worthy and crowning conclusion. Newly composed by Gurbasant Singh, this popular piece, which traditionally finishes all Kundalini Yoga sessions, opens the heart, touches deeply, and ends in a state of real "bliss" with long Saaat Nam's.