Mardana Mantra Band History
Gurbasant Singh and Gurusurya knew each other already for some time from various Kundalini Yoga events and festivals before they first met as musicians in 2005.
Gurbasant Singh says: "I was fascinated from the beginning by Gurusurya's wonderful voice and his multiple musical skills when I heard him play and sing. We soon began working on new compositions and experienced a wider musical dimension together. It was real fun!".
The two found out that they were living not very far apart, so that meeting for playing music soon became an a regular habit.
Another "early spark" of this musical partnership was lit by Sat Hari Singh Khalsa, one of the founders of Yogi Tea in Europe, dedicated Yoga Teacher and inspired musician, when he was looking for fellow musicians to join him as a backing band for several concerts all over Germany.
Together with other musicians and singers from the Rhein-Main-Odenwald region, such as Kartar Kaur Mahler (Harmonium and vocals) and Gurusurya's wife Sahej (vocals), soon a solid band for Sat Hari Singh was created and various inspiring concerts were performed, some of which were quite "funny", for example one at a Summer Rave Festival outside of Berlin!
In late 2005, Gurbasant Singh and Gurusurya started working on the Sadhana album Sadhana Celebration, partially joined by Simrat Schreilechner (Sitar) and Satkaram Kaur Khalsa (Harmonium, Keyboards and vocals).
It was for an upcoming concert with Sat Hari Singh in Bonn, Germany, when Kartar Kaur unexpectedly wasn't available and there were only a few days left to replace her. More than fortunately for everyone, this happened to be Satkaram Kaur's home region at that time, so she spontanously filled in, learning melodies and material for a full concert in literally just a few hours! And that concert, happening in a church with an incredible sound and wonderful audience, was just fantastic!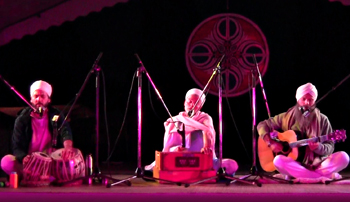 This was laying the foundation for the first mardana band consisting of Gurbasant Singh, Gurusurya and Satkaram Kaur which should last for 10 years to come.
However, at that time the band name "mardana" was not yet found – we were some kind of "no name mantra band", just enjoying playing together whenever it was possible at Festivals, Yoga events and Gurdwaras, steadily developing our signature sound, creativitiy, groove and energy.
This musical journey was deepened when working together with Gurudass Kaur Khalsa for her famous album "Lovingly" which was mostly recorded in the "Cashew Records" studio in Gurbasant Singh's house. It was again very fortunate for our band that Satkaram Kaur happened to move in the same village arond that time, so she was fully available to contribute her muscial skills.
Inspired by this work, we decided to create our first real album together, under a new band name that had yet to be found, finally manifesting all the musical ideas and compositions of the past years, as well as expressing our vivid musical partnership.

This was a very big name to live up to!
Mardana was the fellow musician of Guru Nanak (*15. April 1469) who travelled around India, and as history says, he even went all the way to Mekka und Medina.
Mardana, the musician, accompanied Guru Nanak on his string instrument, the Rabāb, when Guru Nanak tought his timeless words of wisdom, God and spirituality by singing and chanting.
We felt this was just the perfect name as well as a great guidance for our music, and during the recordings for our first album I Have Found In Me, we created the Logo out of it.
Over the time, the three of us had many great performances and lots of fun, intense rehearsals and recording sessions together.
Several years later, we created our second album Love is in Silence.
For all albums, we designed the covers with everything around it together.
In 2019, Satkaram Kaur decided to leave the band and we parted amicably.
It seemed the time had come for a fresh start and something new.
So we started to rehearse together with wonderful singer Nina Sarabjit Kaur Reiss for a while, playing live together with her soon after, at the "Good Vibes Yoga Fest" in Darmstadt.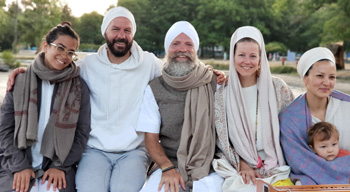 We actually also had a morning Sadhana perfomance scheduled at the European Yoga Festival in France that same summer of 2019, live on the main stage, with about 1.500 people attending.
Besides Sarabjit's vocals, we felt we definitely needed extra musical backup both on Harmonium and vocals.

We felt very blessed and were again very fortunate when Anna Japa Bhakti spontanously joined us right at that European Yoga Festival, with only one day left for rehearsing (feels familiar!) – and our Sadhana music performance the next morning went just great!


It felt like it just had to be – it fell into place, and we felt like one unit from the start.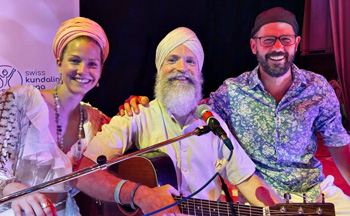 Since then, our band mardana is fully back in its "trinity" and we keep performing live on stage as well as working together on a new album with new compositions which we plan to release in 2023.